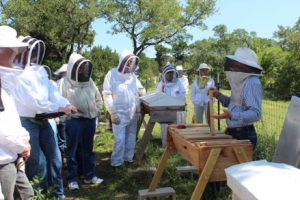 I have restructured my classes to help you be more prepared to successfully care for your bees.  It is very important to have a solid foundation (ie: 101 class ) before jumping into the hands on class. This will protect you and my bees. 😉 Please make sure you have taken a good basic beekeeping class before you take my 201 or hands on class because my classes are progressive. In order to be fair to other students and manage class time, we will stick with the topic list for each class. I teach in a very careful, systematic way so that you will be able to remember what you learn and then apply it in your bee yard. I want you to be successful and LOVE beekeeping and that's what is best for the bees!  If you are unsure which class is best for you, just call me and we will talk about it. 🙂
Beekeeping 101: Getting Started (approx: 3 hours) This is the perfect class to learn more about bees and what it takes to become a beekeeper. This class is a prerequisite for the 201 Class.
101 Class Topics Include:
Bees of the world and the Honey Bee
Pollination
Who's in the Hive
Bee Biology & Communication
Preparing the Apiary and Water for the Bees
Hive Selection – 8 Frame or 10 Frame choices in Langstroth Hives
Top Bar Hives
Personal Protection Choices
Tools of the Trade – Smoker, Hive tool, queen excluders
Purchasing Bees – Package, Nuc, Full Colony
Avoiding Stings
AG Exemptions on 5-20 Acres
What is the NEXT STEP? More classes, county clubs, bee schools, books
Observation Hive Tour and Honey Tasting
Questions?
Beekeeping 201 – Combined – Bee Management & HANDS ON (approx. 3 hrs)
Prerequisite of a prior beekeeping 101 class
In the bee management indoor portion you will learn bee management strategies so that you are ready to pick up your bees and begin your new hobby with confidence! We will demonstrate the various skills from hiving a package, feeding your colonies, how to recognize pests and diseases, preventing swarming and harvesting the honey.
DiscussionTopics include:
Picking up your bees
Hiving a package
Bee Nutrition – for all seasons  (includes sugar syrup, pollen, dry sugar, fondant or candy)
Recognizing Hive Pests and Diseases
Pest Management – IPM Strategies and organic options
Preventing swarming
Questions?
Hands-on learning in a small-scale bee apiary Small classes to increase learning and contact with bees. This is the class for someone who has committed to keeping bees, is ready to get started, already has their hive and/or bees, needs a refresher course on what to do and when, or just wants some hands-on experience with working bees in the hive. You MUST have taken 101 or equivalent beekeeping class in order to be successful in this class AND to work with my hives. This is an advanced learning class and we won't be able to repeat what you should already know from 101 class. This class is outside in full beesuits working directly with the bees. We will work with Top Bar hives and Langstroth hives, unless you only choose to learn one.
Hands-on skills to practice in 201 class:
Lighting a Smoker
Putting on the Beesuit/Veil/Gloves, etc
Working in the apiary – first watching then performing a hive inspection in both Langs and TopBar hives.
Queen spotting at every hive
Distinguishing brood comb, drone comb, honey, and pollen
Recognizing Eggs, Larva, House Bees, Foragers, Drones, Queens
Hive management of problems that arise in the apiary
* Hands-on classes may need to be rescheduled if weather is adverse for bees.
*** ALWAYS CHECK WEBSITE TO SEE IF HANDS ON CLASS (201 Class) is STILL ON. We can't work the bees if it's too cold, too wet, too rainy, too windy, etc.  I try to email everyone signed up for classes a day or two before to let you know that the class is still on.  When in doubt, please email, call, or text Tanya to make sure class is still happening.